American Expeditionary Forces in World War I
The Americans formally joined the war on April 6, 1917. In spite of the American declaration of war, it took another year for Americans to mobilize, train, cross the Atlantic, pass advanced training, acquire planes, get weapons and then go into action. After all, the pre-war American military was small compared to those of the great combatants – Germany, France, the British Empire, Russia, Austria Hungary, etc., who had been fighting since August of 1914.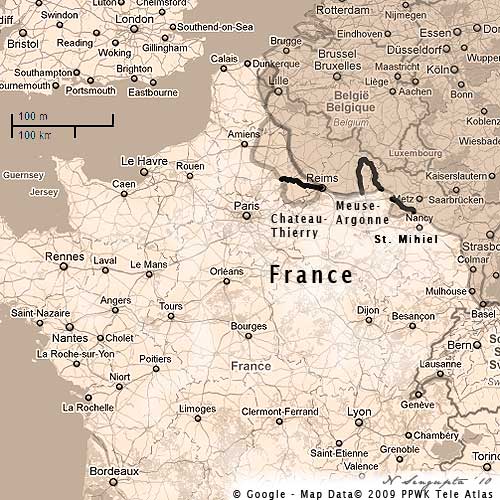 In all, 24,000,000 men were registered into the United States armed services. Of that number, approximately 4,000,000 were put in an army uniform and approximately 2,084,000 made the journey to Europe ending up mostly in France. Fully 79% of them or 1,656,000 departed American shores from New York. The rest left from other eastern-seaboard ports like Boston. Out of two million men who went to England and France, the largest number going to any single port was to Liverpool, where 848,000 disembarked. The main arrival port for the troopships heading straight to France was Brest, which received 791,000 Americans. The main port for freight was St. Nazaire. Those arriving in Liverpool usually crossed England by train then boarded another ferry to cross over to Le Havre, France, and then they took trains to their next destination from there.

Thanks to precautionary measures taken by the United States and Great Britain, few troops were lost to German U-boats looking for prey in the Atlantic. In early 1918, there were four American divisions overseas, of which three were under their full strength of 20,000 men. Note that American divisions were approximately twice the size of their European counterparts and thus these four American divisions would soon be the size of eight European divisions. By May 1918, 500,000 troops were in France which, by mid-July, had swelled to over 1,000,000 American troops in Europe. Their numbers continued to go up from there. One of the first to make the crossing was General John J. Pershing. He voyaged to Paris soon after the United States joined the war, arriving in the beautiful city on June 13, 1917. Having checked in to the Hotel Crillion, it was from one of its balconies that Pershing greeted the throngs of French people to assure them that the Americans were on their way.



Back to Top.