American WWI Aviators Monument
The United States lacks a national monument commemorating American World War I USAS, USMC and USN airmen, their ground teams and their officers.* Over 1,000 Americans flew with front-line squadrons in World War I. Tens of thousands more Americans supported them. And many also flew for the Lafayette Escadrille, the French Air Service, the RAF, etc.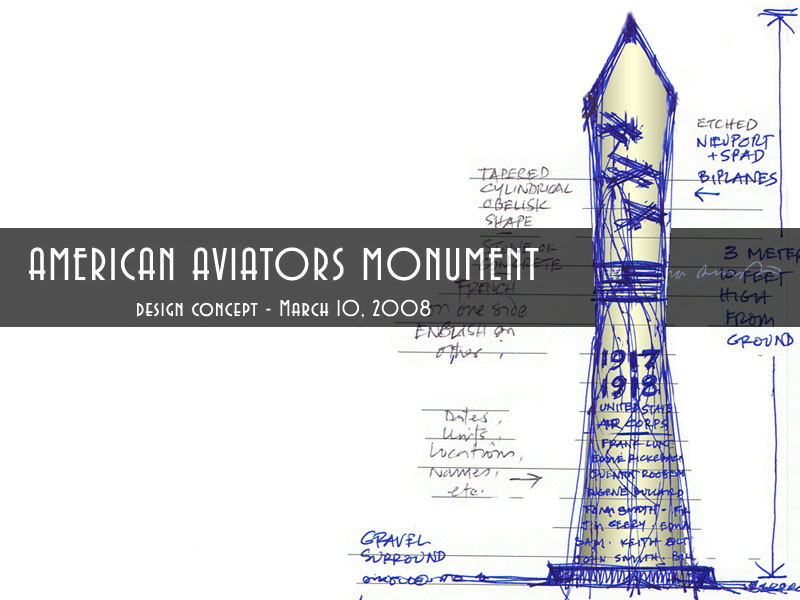 Sketch of United States Air Service World War I monument. Design Narayan Sengupta.

These intrepid men flew fighters such as the Spad VII, Nieuport 28, Spad 13, Sopwith Camels, bombers such as the Breguet 14, DH-4 Liberty, DH-9, and observation aircraft such as the Salmson 2A2, airships, observation balloons, flying boats and more. Those serving include Quentin Roosevelt, Eddie Rickenbacker, Raoul Lufbery, Frank Luke, David Ingalls, Billy Mitchell, Carl Spaatz, Fiorello LaGuardia, Hiram Bingham, etc.

This proposed monument is simple: a 10' (3m) tall pinched-waist cylindrical obelisk made of stone or concrete. The top third would feature etchings of various aircraft types. The waist would feature the etched flags of the United States, France, UK and Italy (where the Americans flew). Below would be etched the years 1916-1918 and the names of the 1,000+ who flew front line squadrons, commanding officers, and the names of all the front-line USAS, USN and USMC squadrons and the Americans who flew for foreign units such as the Lafayette Escadrille, the French Air Service and the RAF. Note: these lists already exist. A small blank area would remain for omissions. The scale is very human. Since the park already exists, the cost would be relatively low, presumably under $100,000, roughly what it costs to fly an F-22 for one hour.

Pershing Park, on Pennsylvania Avenue and almost next to the White House in Washington, DC, is the site of a proposed American WW1 Memorial, reflecting pool, etc. and an existing statue of AEF commander John J. Pershing. The design is beautiful, but it lacks any reference to any but the infantry. No ships, no tanks, no aircraft, no artillery, etc. [I have proposed adding such elements to the design.] This American WW1 Aviator's Monument, put near the main American WW1 Memorial, would be a wonderful addition.

*While there is a great monument to the Lafayette Escadrille and others for individuals such as Quentin Roosevelt and Frank Luke, we don't know of any monument to the USAS, USMC or USN aviators in Washington, DC, at the United States Air Force Museum in Dayton, the National Naval Aviation Museum in Pensacola, anywhere else in the US or overseas in France, the UK, Italy, etc.

If you would like to get involved, then please Contact Us.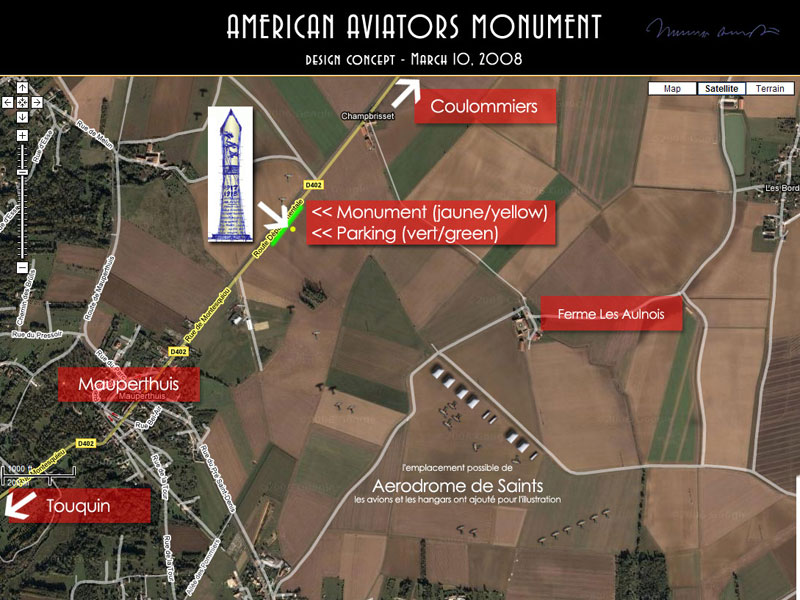 Site plan for United States Air Service World War I monument (based on Google Maps)


American WWI Aviators Monument - UPDATES
6/2009: We have created an official organization called SAAF '14-'18. SAAF stands for Souvenir des Aviateurs Américains en France 1914-1918 had its first meeting on April 6, 2009 in Saints, France. SAAF's objective is to create a monument to honor all the American aviators and personnel who served in the United States Air Service, US Naval Aviation and US Marine Aviation in France and overseas in 1917-1919. The first meeting was attended by Jean Coudert, Claude Barriere, Claudine Thibault-Barriere, Claude Golab, Narayan Sengupta, Denis Sarazin-Charpentier, Gerard de Puyfontaine, Patrick Georges, Daniel Kramer, Richard Nicol and Lizabeth Nicol. For more details or to participate financially or otherwise please contact Michael O'Neal at E-Mail Us.

7/2009: We are trying to price out what the cost of the monument will be and we are also trying to find a suitable location such as the one that is above.

9/2015: We have identified several possible locations.

8/2017: While I haven't had time to work further on this project, it is very much on my mind... I still hope we can do it.

10/2017: A National American WW1 Memorial is finally happening in Washington, DC. I hope this monument can be part of it! So the above text has been revised correspondingly. Also I've added a mini-version of this page on LinkedIn. Please like this post so we can get more exposure and generate more enthusiams: https://www.linkedin.com/feed/update/urn:li:activity:6322070923314819072/